Happy Spring Friends! I am super happy to welcome the warmer weather now, with all the beautiful Sunny days it brings. If you live in the Midwest, or on the East Coast, you'll definitely be able to relate to me when I say that it was a BRUTAL Winter! BUT! We made it! And the positive is that I guess it's all the more reason to appreciate our current days :)
Now then, I wanted to put out a post on some new make-up treats that I've found as of late. While I have some faves that I tend to stay loyal to (read I won't ever stop using them lol) I am all about upgrading, revamping, and refreshing my collection from time to time. What I do know is that if you try just a few of these, you'll love them too!
So, you may recall in some of my previous posts that I mentioned that I LOVED Smashbox Studios HD concealers. That hasn't changed BUT I have switched to Tarte's Marajuca Creaseless water-proof concealers. I got a sample of this stuff after a fellow make-up artist ranted, and raved about how much she loves it. I was a little reluctant to change as I am very much one of those customer's that loves what I love, but I became a believer after I saw the staying power of this product. And as advertised, it DOES NOT CREASE whatsoever! I highly recommend this product for under the eye, and along your brow bone to enhance your brow shape.
I've heard so many positive things about former super model Josie Maran's Matchmaker Serum foundation, that I just had to give it a try for myself. I can say that it definitely gave me flawless, natural coverage, and color matched my skin to a T. This foundation isn't for someone looking to conceal a lot however. If you want something that's similar to a tinted moisturizer, you'll love this foundation.
I'm always on the prowl for mascaras that can lengthen, thicken, and nourish my lashes at the same time. I was using, "They're Real" by Benefit Cosmetics for awhile, but kind of outgrew it. It was kind of like my lashes got accustomed to the product, and no longer responded well to it. In other words, what once used to wow me, became more like, "ehhhhh". I tried a few after that, but then stumbled upon Too Faced Cosmetic's, "Better Than Sex" mascara. The name makes me blush (LOL) but the product is absolutely........ Amazing! ;). It not only lengthens my lashes, but thickens, AND the company promises that it helps to grow new lashes in. I LOVE this product!
Nothing screams HEALTHY! YOUTHFUL! or RADIANT SKIN! like a flawless tan, or a good bronzer. Oh! And even if you're a cocoa hued Beauty, bronzer can still do wonders for your skin in that it adds depth. I've highlighted a few bronzers faves for you all. The fun part is in trying it out!
1. Too Faced Snow Bunny Bronzer. It's shimmery, but in moderation.
With several shades in one compact, "you can apply them individually ... or sweep across all colors at once and get a unique bronzing experience.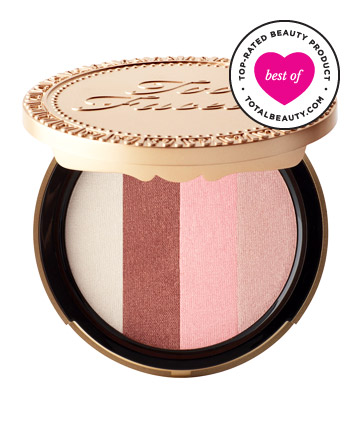 2. Smashbox Baked Fusion Soft Lights Bronzer is stunning!
This multipurpose and multicolored product is so awesome because it's like three products in one. Y
ou can use each color individually as a complimentary eye shadow and get even more out of the palette that way.
You can also use it as a highlighter/blush.
3. Bobbi Brown Bronzer powder is also amazing in that it will give you a light touch of color, but it doesn't have all of the shimmer, and glitter as many other bronzers. Some people prefer this look, or skin that is very mature tends to look better without shimmer on them.
4. What I personally use on myself, and LOVE is MAC Cosmetic's Refined Golden Bronzer. I find that it gives me just enough highlight, depth, glow, and pretty color. I also use it to contour my nose if I'm on a photo shoot, and it shows up incredibly pretty.
Not sure what you're color is? I highly recommend visiting your nearest department store, or Sephora and let an expert help you find one that is just right for your skin. Once you do, send me a selfie and I will feature you on this blog!
Finally, a quick little tip you can do to spruce up your look is by simply whitening your teeth just a hair. It's easy, affordable, AND will really step up your look! Plus, when you wear those hot new lipstick colors for Spring, your color will really stand out all the more. Crest White Strips are the business!
Well, that's all for now my Beauties! If I haven't said it already, I'm going to say it now: I APPRECIATE YOU visiting, and reading through this post. You could visit any blog, but you've visited mine and I don't take that lightly. :). Connect with me on Facebook: Make-up By MelissaRoshan, or on Instagram: @melissaroshan. Meanwhile, Happy Spring!