I recently had the pleasure of working with local photographer Scott Cunningham of CMH magazine (www.cmhmag.com) for a photoshoot with local celebrity Dominique Reighard of America's Next Top Model Cycle 10. The shoot was for a print ad for my dentist Dr. Schumann of Grove City Dental.
Dominique arrived to the shoot looking flawless, and not a stitch of make-up on. We talked about all her new endeavors, and more. The look I wanted to go for was natural, pretty, fresh, and clean. Her teeth were the focal point, and so an impeccable precise lip was a must.


Here we are doing touch-ups in between takes. Of course you all know I brought out my secret weapon: The Shimmer Brick by Bobbi Brown, and applied it to the apples of her cheeks.. Mac cremestick lip liner in: 'Ginger Root' was applied, with Sugar High Beauty Rush Lip gloss on top.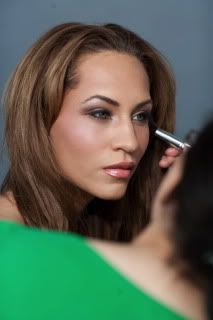 A well defined eye in Sand and Sea Pallete by Estee Lauder, with individual lashes strategically placed, really made her eyes pop.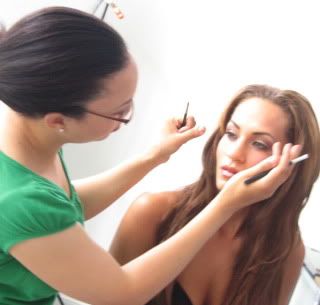 Here I am, making sure everything is flawless...

And here we are! The final product! Doesn't she look flawless? Do you want to achieve her pearly whites? Hop right over to my dentist Dr. Shumann, at Grove City Dental. Let them know your a client of mine, and receive a fabulous deal on Zoom Tooth Whitening! Give them a call at: 614-305-7500, or visit them online at: www.grovecitydental.com They have taken care of my teeth for years, and I love them!

Stay tuned cookies! On my next posting, is another "Gorgeous Gal Alert!"