So, you certainly weren't "tardy for the party" during your holiday celebrations.. In other words, you partied too hard, and now, it is visible on your skin. Below are skin, "damage controls" to undo the effects of late nights, rich foods, bubbly, and stress!
Problem:
You piled your plate high, and now your face is puffier than a blow fish :'(
Sodium-filled holiday foods (hello mash potatoes, candies yams, and holiday bread!) cause fluid retention.
SKIN FIX!!!!!!!!
To reduce swelling, wrap a cloth around a frozen bag of peas, and hold it against your face for ten minutes. Do not forgo the cloth, as you can get freezer burn.
By doing this, the cold temperatures constrict blood vessels and alleviate puffiness. Next, follow up with a great firming cream. My winter face cream personal fav is, by Shiseido, Benefiance.
Problem:
You had a few too many cocktails, and now your skin is super-dry :'(
Drinking alcohol depletes skin's moisture and lead to a tight dry texture the morning after imbibing.
SKIN FIX!!!!!!!!
To restore radiance, reach for products that contain humectants, such as hyaluronic acid which draws in moisture. After washing your face, apply a serum with hyaluronic acid under moisturizer. My current personal fav is by Clarins.. The Hydra-Quench Serum. After cleansing, I apply much less than a dime size, under my moisturizer.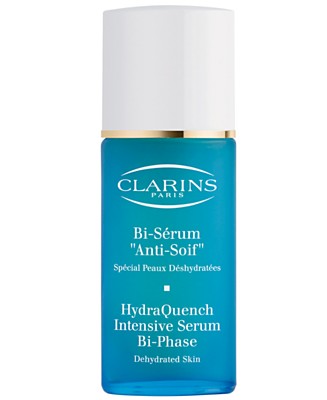 Problem:
You scrimped on sleep, and the bags under your eyes are massive.
Sleep deprivation hinders the normal flow of oxygen to your skin, especially under the eyes. To fake the look of a full night's rest, apply an eye mask for ten minutes. Next, dab on eye cream in a "circular, gentle motion" from the outer corner inward, to rev up blood flow. This is a technique I learned when training in the Clarins Skin Clinic.. Follow up with a great concealer.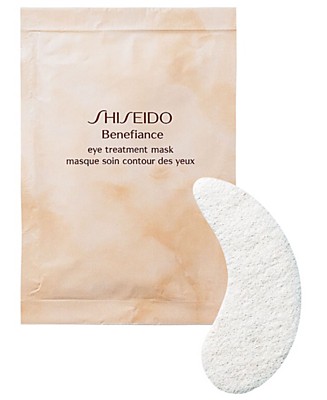 I heart these eye masks from Shiseido. They have aloe vera in them, and are to be worn once a week for thirty minutes. Amaaaazing!
Please do try the Clarins Eye Contour Gel.. It has a caffeine agent in it, that flushes out the tear ducts---this dramatically reduces puffiness! No, your eyes won't water :), so no worries in that respect.
If you have been one of my clients, then you know I love the Bobbi Brown corrector, and concealer system. It is absolutely wonderful! Rich, and emollient, it does not magnify fine lines, and conceals any dark circles one may have COMPLETELY! LOVES IT! ;)
Problem:
You haven't quit smoking--yet, and your fine lines/wrinkles are getting deeper.
Another reason to errr, um, kick butts: Nicotine constricts blood vessels, which mean less blood flow to the skin. The result? A dull, ashy complexion, and premature wrinkling (especially around the upper-lip area). While you work on quitting the habit, use an exfoliating cream that has radiant-boosting vitamin C. Please try, The Body Shop Vitamin C Micro Refiner, about 2-3 times a week.
Problem:

You hit the sack without washing up, and now your face is zit city :'(
Leaving make-up on overnight can clog pores, and irritate skin. To calm eruptions, smooth on a a lavender based toner which is anti-inflammatory and antibacterial. Spot-treat zits with a gel containing benzoyl peroxide.
I loooooooove Bobbi Brown's soothing face tonic. I use it on all of my brides, and self. It is amazing, and safe for all skin types. Did I mention it also smells so refreshing, and clean?
Mario Badescu products have been used for years by celebs, and brides because of it's fast acting approach to the skin. As a professional model, I find I tend to break out right before a shoot! It is almost as if my little pimples wants to make their own debut. I've sent many of these unwanted visitors packing with this lotion.
Neutrogena's line of: 'Rapid Clear' products are amazing as well. I have them, use them, and love them. They work!
Hope you all have found this post helpful! Is there a, "Quick Fix Skin Rx" you would like to see for the next time? E-mail me! I love hearing from you!
Happy New Year!