Hello cookies! I recently had the pleasure of being a guest speaker at the Columbus Bridal Consultants monthly meeting. When I received the invitation from Heather Smith of 'Bridal Smiths', (www.bridalsmiths.com), and Jamie Rapavy of 'Devoted To Details' (www.devotedtodetails.com) I jumped at the opportunity. Not only did I get to interact with other fabulous wedding vendors, but I got to do live make-overs! What fun!
Special thanks to Emilie Duncan Event Planning, (www.emilieduncan.com) for being gracious enough to snap a few photos for me.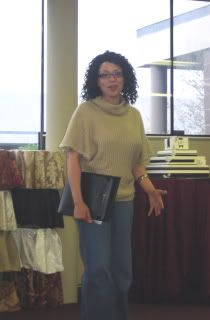 Here I am! Giving my bio, and professing my love for what I do..
I decided to use Quenetta Gordon of Something Blue Ohio event planning as my model..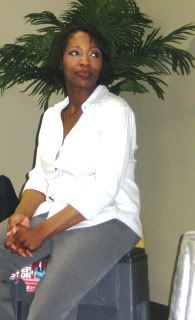 I am so glad she said yes... She is beautiful! I had the opportunity to prove to another, 'minimalist' when it comes to make-up, how natural she would look.
By the time the evening had finished, I was able to offer my advice on an array of questions concerning make-up... It was so much fun! Until then, stay beautiful!