Hi tootsie pops!
So, I promised to do a gorgeous guy alert, and while I think this entire posting should be about my hubby, (smile) I have dedicated the post instead to two male models, and pals I had the pleasure to work with last week.
Our fabulous photographer was Shannon Williams Photography, whom I totally admire. Shannon photographed Arend, and Thomas in downtown Columbus on a gorgeous afternoon. Our music of choice was actually the bustling of on-lookers walking by, birds chirping, and the occasional honking female! Ha!
Here is Thomas.. Thomas is actually one of the top modeling agents in Ohio, but was a former model. Yep! I can see why!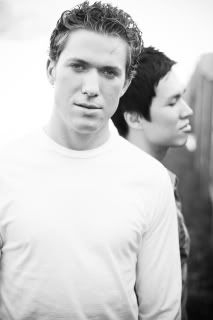 And Arend. I always tease Arend and tell him that he looks like a prince in once of those fairy tale books.. Look at his hair, eyes, and jaw-line!
For both gentlemen, I used a tinted moisturizer by Laura Mercier:
I used a clear mascara to groom their brows. This is perfect for even us gals. Just comb your brows in an upwards motion, and over to seal in place. It works! Not only that, it conditions the tiny hairs, and adds a soft sheen...
I have heard so many great things about Neutrogena's, 'Natural Radiance Bronzer', that I decided the perfect time would be to test it on this shoot! It went on amazingly smooth, and gave a warm, natural, healthy glow.
Last, I ended with Burts Bee's lip balm. I love the way it conditions the lips, and gives a supple glow for men, and women!
Stay tuned cookies! I have some great new postings coming. One involves my work with a local celebrity, the other, a speaking engagement, and a girls night out! Gotta run, beauty calls!