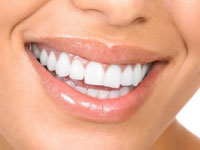 Ten years from now your wedding will be a beautiful memory for you and your partner. The primary way for you to remember it all will be your treasured photos and video recordings.
Make sure your smile and your partners smile are both radiant on the day. You don't want to look back and think…."After all that money I spent on my dress, my hairstylist, my makeup, the photographer…I really should have done something about my teeth".
To get you started, I have a few recommendations that will work for you! First thing's first, and that is-- you guessed it, brushing! Purchase an electronic toothbrush. It doesn't need to be an expensive one – the $20 ones from the supermarket do a great job. Electronic toothbrushes are proven to clean better than hand held manual brushes, removing more tartar and helping the overall health of your mouth and teeth.
Use Listerine Whitening Mouthwash or something similar to kill any harmful bacteria, which will give you fresher breath and healthier teeth and gums. Avoid coffees, teas, berries, or tobbacco. These foods, and beverages can wreak havoc on our smiles!
A dazzling white smile is extremely important for your special day. It enhances your makeup, makes you appear more youthful and radiant and looks great in photos!
Purchase an effective Professional Teeth Whitening System, or even make an appointment for professional teeth whitening. White Science of Ohio, can help you get your pearly whites back for less: www.whitescienceofohio.com.
If you decide to do the system at home, choose a system that has customized mouthguards that can take a proper impression of the teeth (not sports mouthguards). Holding the whitening gel against the teeth for a full half hour is most important in getting an EVEN whitening and a long lasting result. Make sure the active ingredient is Hydrogen Peroxide at least 7.5% to 9.5%. Hydrogen Peroxide is 3 times stronger than Carbamide Peroxide and works 3 times faster (you don't have to wear it to bed). You'll need to perform the treatment 3 weeks before your wedding and then for half an hour on the day of your wedding (to make em really white!)
I personally use SuperSmile, about every eighteen months:
Me cheesing, and showing off my teeth :)